Just right about now, I've finally thought about what my first top ten would be.
As the title suggests, it would be the places I wish to visit in the future, so good luck to me and my budget! These will be a mix of domestic and international destinations that really captured my interest. They could be yours too, so read on!
Because they would come in no particular order, I wouldn't put numbers on them. hehe
Melbourne, Australia
This is a very interesting building - it's actually a train station!
The Great Ocean Road - really ROCKS!
It's been more than a year since I have been to Aussie. In my next trip to the land down under, I plan to explore outside Sydney. I want to check out Melbourne, Canberra and Queensland. But I would probably still drop by Syndey for sure!
Cagayan De Oro, Philippines
White water rafting looks fun!
I've been wanting to go to at least one place in Mindanao. I was thinking of either Davao or this. But because CDO's white water rafting and Camiquin's wonderful beach looks really amazing, then I am adding it to my list. I'm looking forward to go there in the next few months especially there are more and more airfare promos!
Batanes, Philippines
Beautiful - I could stare at this all day!
I used to read an article before about Batanes. And it to me it's like an Irish country side when you see the pictures! I was really interested to visit this and check out the simple life out there up the tip of the Philippine Islands!
USA
Hello Statue of Liberty!
If given the opportunity, I would really love to explore all the states of USA! I've read a lot of those places and seen in movies too! San Francisco, Boston, New York, Las Vegas, name it!
Vatican City
I might cry if I get to see the Pope - would be a dream come true
I want to see the Pope and where he lives! There's something about the place, all the well-known structures and history of this place. It has captured me really especially when I read the Dan Brown novel!
Romania
So here's where the real slim shady is!
The interesting stories about vampire Dracula and the castles made me choose this! But I'm very sure there's more than those that this could offer!
UK
Buckingham Palace
I'm hoping to see Prince William haha!
New Zealand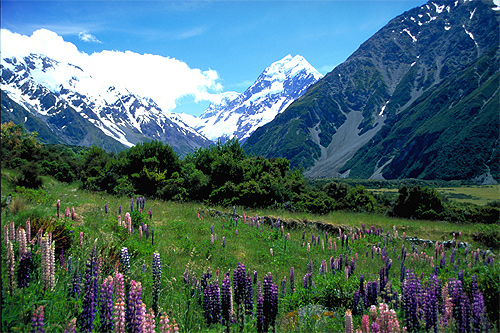 Need I say more!
I want to see the Frodo Baggins! LOL Seriously, the mountains capped in ice is so so beautiful!
Italy
I'm speechless...
Reading Eat, Pray, Love by Elizabeth Gilbert has inspired me to go to Italy, learn Italian and eat the best tasting pizza!
Egypt
Speechless again...
I have been so fascinated by the structures of the pyramids and sphinx so yes, I would love to see them in my own eyes!
So there you go! What do you think? I wish I could visit them as soon as possible! But really there's a lot of them in the list...
NOTE: Photos are not mine. No copy right infringement intended.